Are you about to go camping with your family? Menu planning is one of my favorite things to do as a dietitian, and I'm sharing my easy menus for camping that my family loves. These meals are delicious to eat, easy to prepare and fun to make.
(Plus well-balanced for healthy living too!)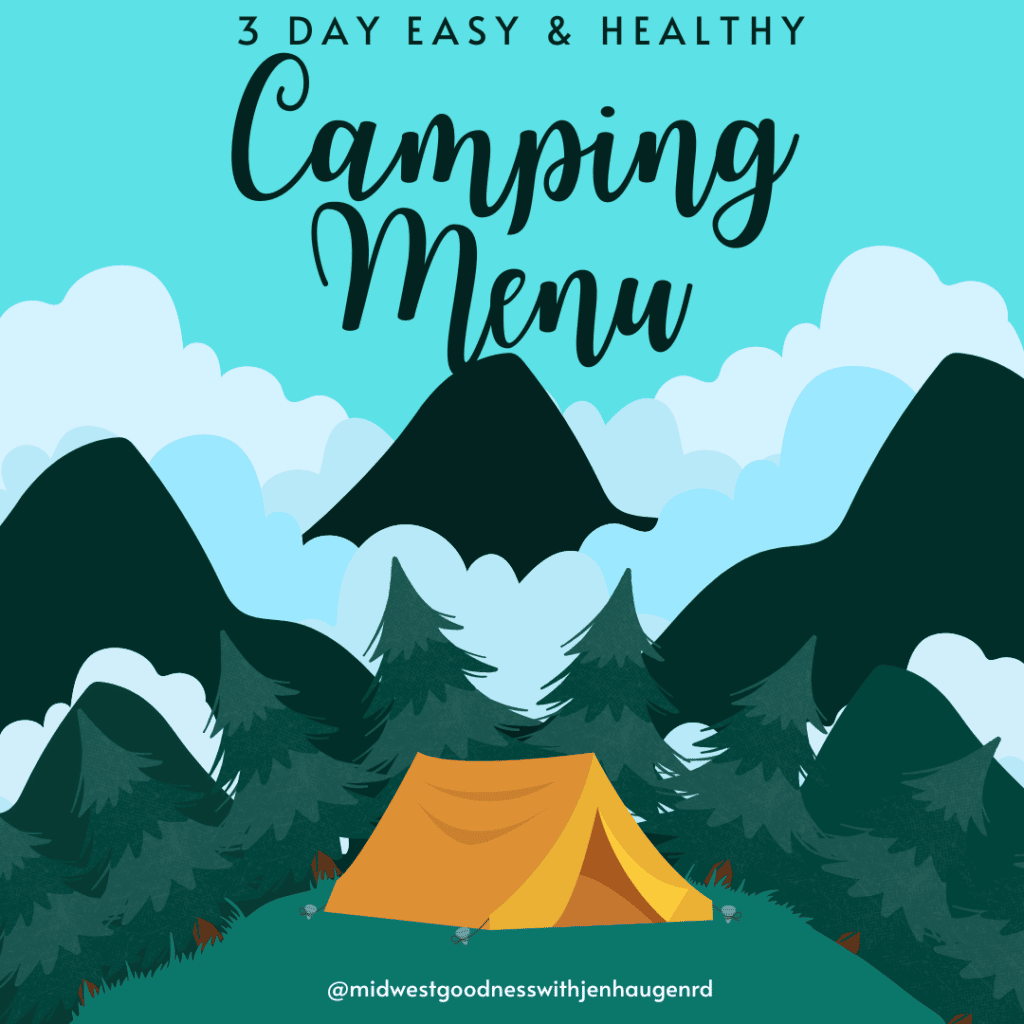 Read on for a simple 3 day menu for camping weekend warriors (the type of camping we do as well). You will also want to be sure to grab my camping grocery list so you don't forget a thing.
Kitchen Tools for Camping Check List
Whether you camp in a tent or a camper, you still need the right kitchen tools to make meals easy so cooking is not a chore. Below is my list for Essential Kitchen Tools for Camping: (Bolded words are links to my specific favorites)
If you have a camper, this can easily be left in the camper from trip to trip. If you are tent camping, pack these items in two large tubs to help you stay organized and things stay clean too.
Now that you have your kitchen stocked, it's time to iron out the menu for camping. 
How do you plan an easy menu for camping?
The easiest way to plan a camping menu is to sketch out your favorite recipes and then plug them in to mealtimes based on the number of days you will be camping.
Note which kitchen tools you will be bringing. (It's not fun to need a can opener and then not have one!) And also note your electricity and water status.
Don't forget cooking over the campfire! Make meals memorable by making foods that aren't often served at home. Everyone can then look forward to their favorites!
Read on for an easy and healthy menu for camping you can use over and over again.
For a three-day trip (typically arriving on Friday and departing on Sunday after brunch), here is a suggested tried-and-true meal plan: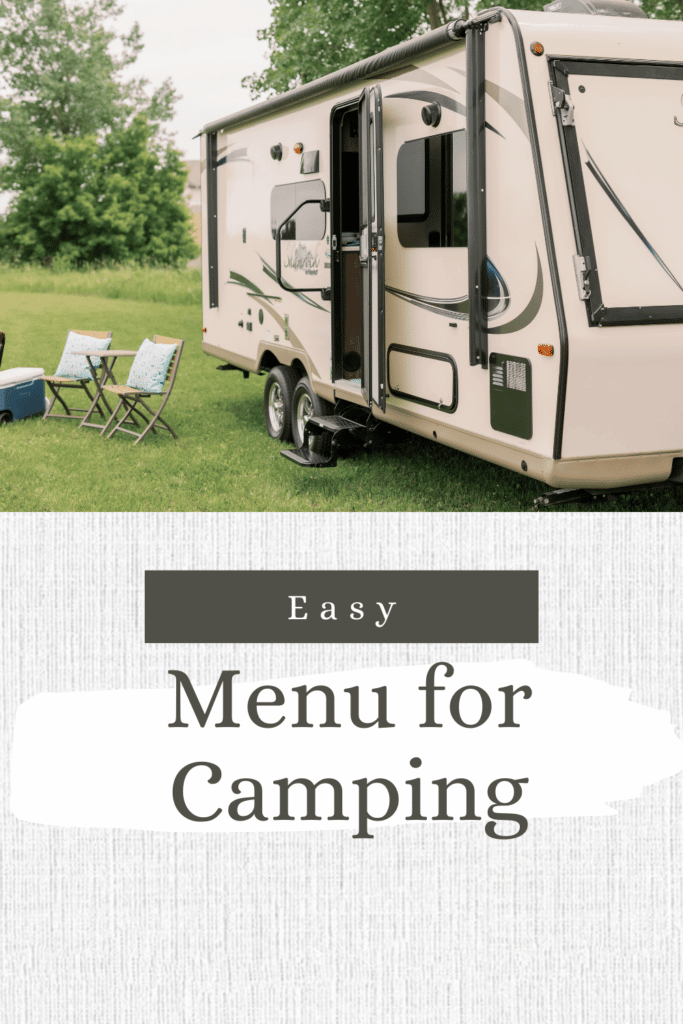 Day 1: 
Dinner Menu over the Campfire:
Day 2: 
Breakfast/Brunch Menu on the Griddle:
French Toast (Brioche bread is the best for this)
Blueberry Sauce (Use canned blueberry pie filling, heat up before serving)
Turkey Sausage Patties
Milk/100% Orange Juice
Condiments: Light Pancake Syrup
Afternoon Snack Menu:
Camping Charcuterie Tray (meat, cheese, crackers)
Grapes
Hummus
Fresh Vegetables
Pita Chips
Dinner Menu made in the Cast Iron Skillet:
Taco Salad or Taco in a Bag made with Beef or Chicken
Black Beans
Lettuce
Tomatoes
Guacamole with Chips
Shredded Cheese
Cilantro
Watermelon Wedges
Milk/Water
Condiments: French Dressing, Salsa, Plain Greek Yogurt
Dessert: S'mores
Day 3:
Breakfast/Brunch Menu:
Breakfast Burritos on High Fiber Mini Tortillas with Eggs and Turkey Sausage
Shredded Cheese
Cilantro
Salsa
(Use up any leftover fixings from the taco meal)
Milk/100% Orange Juice
To make your shopping list, you can either build it from the recipes above based on your family's likes/dislikes and quantities for how many are in your family, or you can click here for my grocery list for this menu for a family of four.
Connect with me by signing up for my Midwest Cooking School newsletter where you can get the details on live cooking demonstrations, and tips to make cooking in the kitchen easier with delicious recipes, by clicking here.
Links above are affiliate links and I do receive a small commission from your purchase. And, I would love to help you get your kitchen tools at a discount by hosting your own virtual cooking party! Click the "Contact Me" page to reach out to me to help you!