Kathy Reveals How She Lost 4 Stone & Won £250!
Kathy lost 4 stone and took 5th place in our spring/summer Transformation Challenge. Kathy never thought she would win, as others in the Secret Slimmers community had lost so much more. So when we called to give her £250, she was pleasantly surprised. We then interviewed Kathy to find out more about her journey and see if she had any advice to offer up.
Congratulations!
NYP: Congratulations on coming 5th in our spring/summer Transformation Challenge! How much have you lost on Plan and how long did it take you?
Kathy: I have lost 4 stone so far. I started at the end of April this year so it took me around 5 months
NYP: That's impressive! Did you ever think you would win when you entered the challenge and when you won, how did you feel?
Kathy: I wasn't really nervous when I entered, but then seeing some of the posts on Facebook I didn't think I would place as some people had lost around 10 stone so I didn't think I would win anything.
NYP:  That's the great thing about our Transformation Challenge, it's not necessarily about how much you've lost. In saying that though, we'd love to know how much you lost during the Transformation Challenge period.
Kathy: I lost all of my weight during this period. I didn't really lose much over the summer due to holidays, but I lost my weight before this time.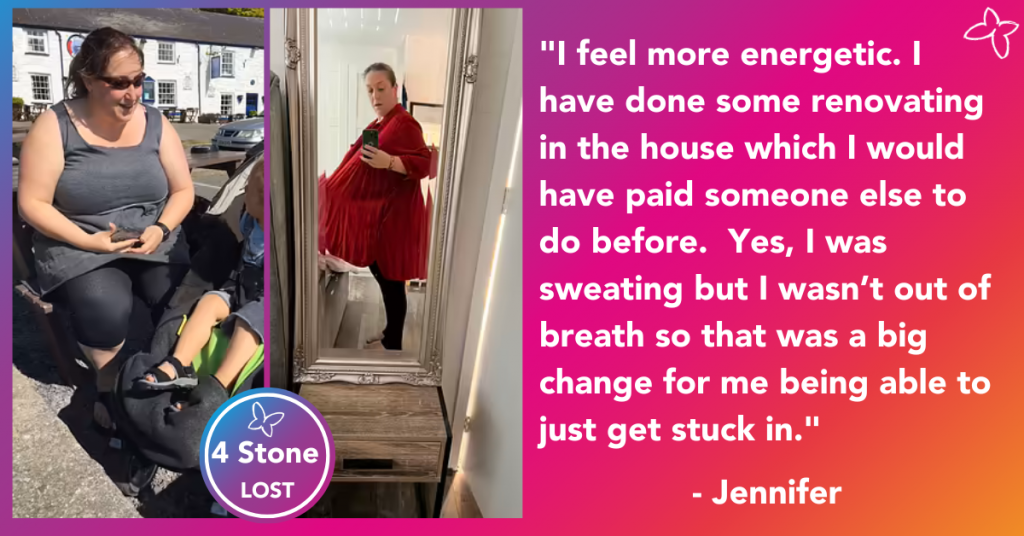 Discovering New You
NYP: Let us take you back, how did you discover the New You Plan?
Kathy: I think it stalked me on Facebook for a while! I follow other weight loss groups so I think with marketing it kept showing up! Then when I returned from holiday, I just thought now is the time.
NYP: Lots of our customers say we just popped up on their feed one day! Can you describe how you felt before starting the Plan?
Kathy: I think the reason I started in April was airplane seats, and how uncomfortable they are. With not being able to go away over the past few years, I had forgotten. Like a lot of people throughout lockdown, I put on a lot of weight. I'm also a comfort eater, it's how I deal with things when I'm emotional and last year my mum passed away so there was a lot of comfort eating. You get to the point where you just have to switch it off because it's so uncomfortable. I felt I just needed to get my mojo back. I need the big boost in weight loss that comes with the New You Plan as it helps at the start and keeps you going. With other plans, you lose slowly and sometimes you lose hope. In the first 3 weeks, I lost 1.5 stone! 
New You Favourites
NYP: It's incredible the number of people who use food to comfort themselves. Can you tell us what your favourite New You meals and snacks are?
Kathy: My favourite meal is the spicy noodles, it's like something I would have in a restaurant! The curry soup is really good and all the bars. The crisps are a lifesaver for me because at night I would nibble, so I have 3 meal packs altogether in one meal then the crisps and a bar.
Life Changing
NYP: How has the New You Plan changed your life? Has your health improved?
Kathy: I think it probably has changed my life. I feel more energetic. I have done some renovating in the house which I would have paid someone else to do before. About 1 month in I did the spare bedroom which had large wardrobes and I had to dismantle them and carry them all downstairs and take them to the dump. Yes, I was sweating but I wasn't out of breath so that was a big change for me being able to just get stuck in. I still can't believe I was able to do all that myself.
NYP: What is the nicest compliment you have received since losing weight?
Kathy: To be honest I still wear baggy clothes so not a lot of people notice! One of the mums at school is a paramedic, she is so supportive commenting on my weight and my skin so she has been the most prominent champion for my journey. She is looking at it from a medical point of view so she knows the benefits. Another friend I haven't seen in a while was obviously amazed but her reaction was that of relief because she was worried about me. So you get different responses from different people.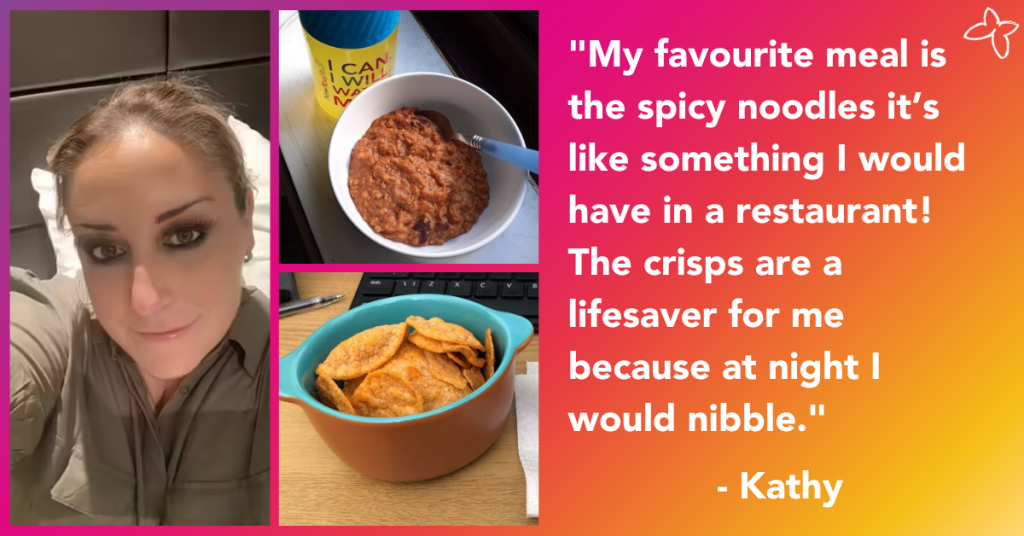 Any Advice?
NYP: And lastly, what advice would you give to someone thinking of starting the New You Plan?
Kathy: Just do it! The only thing you have to lose is weight. The bonus for me is I hardly ever have to go shopping now & when I did I always ended up buying stuff I didn't need. You replace your food with packets and yes, I still have to go shopping for some things but when you go to big supermarkets you end up with so many extras. 
Because I didn't expect to win I would say everyone has a chance it's like the lottery, just go for it!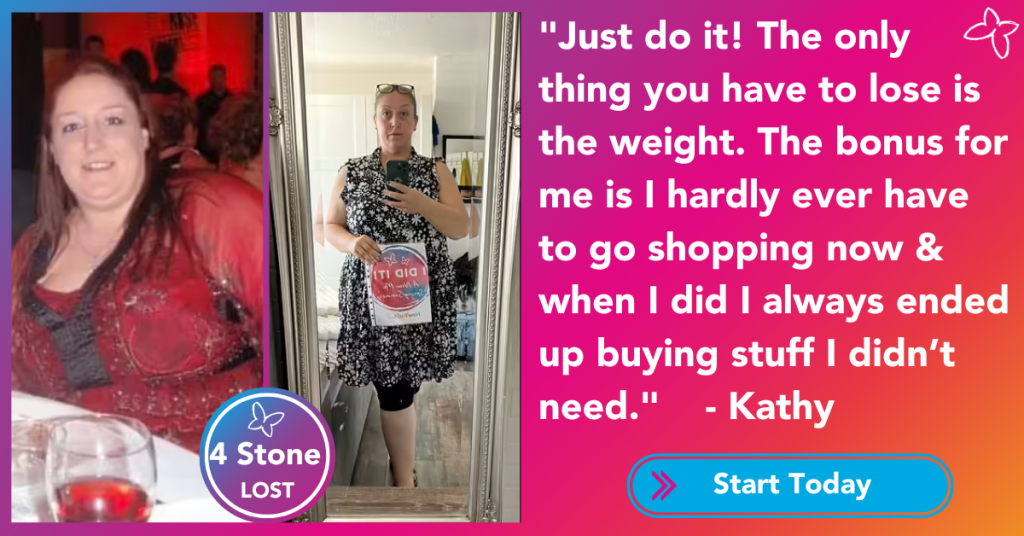 Kathy has had a fantastic journey and is right when she says to just try the New You Plan. All you've got to lose weight and for Kathy, it was 4 stone.  She now has more energy and feels comfortable when flying, and the benefits of weight loss will just keep coming.
Feel Inspired?
Whether you want to lose half a stone or 108 lbs, have a slimmer figure, or are just looking to get maximum nutrition in minimum time, then New You can make the perfect partner to get you to where you want to be.
Not sure? Try our 7-day bundle and see what you can achieve in a week. You'll be pleasantly surprised.