Young, healthy people in the United Kingdom have reported receiving "leftover" doses of the Pfizer COVID vaccine due to no-show appointments, while IT loopholes have offered others a chance to jump the priority queue.
One woman tells Newsweek she was offered an injection at a mass vaccination center in England after taking her 80-year-old mother to get her vaccine. As temperatures plunged on Sunday, much of the U.K. was covered in snow. It suddenly became clear to vaccine center workers that doses would be unused and wasted due to a large number of patients who are elderly or vulnerable being unable to make it in the treacherous conditions.
The center, in southern England, was administering doses of the Pfizer-BioNtech vaccine, which has a shelf life of just a few hours after it is removed from ultra-cold conditions. Pfizer is shipping its vaccines in special containers packed in dry ice to keep them at the required -70 degrees Celsius (-94 degrees Fahrenheit). The containers hold a minimum of 975 doses in 195 glass vials. Once a vial is out of the fridge and diluted to make five shots, health workers have six hours to inject it into people's arms, leading to fears some doses may "go to waste".
Vaccine workers desperate not to lose any doses desperately ring a priority list of back-up patients, to see if anyone can come in earlier and get their shots. But if they can't get hold of anyone at short notice, or because transport to vaccine centers proves difficult, the issue has led to reports of "leftover" doses at the end of the day being offered to friends, family, or even just anyone living nearby that can get to a center within a matter of minutes.
It means that vaccines meant for priority patients – which in the U.K. means elderly care home residents and their carers, frontline health and social care workers, anyone over 70 and clinically extremely vulnerable individuals – are going to people who are younger, and healthy.
"I took my mother, who is 80, for her jab because of the weather," a woman, who wished to remain anonymous, tells Newsweek. The snow was so bad that some of the roads surrounding the center, the G Live music venue which has been transformed into a mass vaccine hub in the Surrey town of Guildford, were unusable. When the woman and her mother arrived, they found center staff working furiously to ring priority patients, she says. Staff said they had a number of people not showing up for appointments because of the weather.
"They were working through a list of vulnerable people and the elderly to see who was nearby and who could come in and take up the jabs," the daughter says. "They were really trying to get people in but the weather was just so awful, you couldn't drive really. I said to one of the workers I live two minutes away and if the vaccine is going to go to waste, I will come and get it. She asked if I was vulnerable and I told her no. They phoned me five minutes before closing to come in and get an injection.
"These were exceptional circumstances, because of the snow, and they were really trying to get priority people in – I just said I don't want to take anyone's vaccine but if they are just going to waste I'd take it. My feeling is that it was better for the vaccine to go into somebody than nobody." Newsweek has contacted G Live for comment.
A report by the Telegraph found similar stories in parts of Kent, Essex, Buckinghamshire, and south London, where people who did not fall within the top four priority groups were understood to have been invited to take the vaccine. The Joint Committee on Vaccination and Immunisation (JCVI), which set out the priority groups, has said the country should get first doses of the jabs to as many people as possible.
Dr. Richard Vautrey, chair of the British Medical Association's General Practitioners (GP) Committee and a working GP in Leeds, northern England, said that the vast majority of "leftover" vaccines are still going to those on the priority list. "Often those who can get to the vaccine centers within a matter of minutes are younger healthcare workers, who are prioritized," he told BBC Radio 4.
"The number one top priority is not to waste the vaccines, they are a precious resource," he added. "But clearly, we are trying to prioritize those in the [top priority] groups."
A spokesperson for National Health Service (NHS) England said that if somebody doesn't turn up to their appointment, every vaccination center should have a reserve list of people they can call and book in at short notice to ensure no vaccine is wasted. "The point of the reserve list is to ensure all appointments can be filled and people vaccinated in line with JCVI guidance," the spokesperson said.
But it is not just "leftover" doses that are causing concern. Errors or "loopholes" in IT booking systems used by some NHS trusts have seen non-priority patients being invited to get a jab. Newsweek has seen evidence that people who are not on the vaccine priority list have managed to book appointments for COVID vaccines.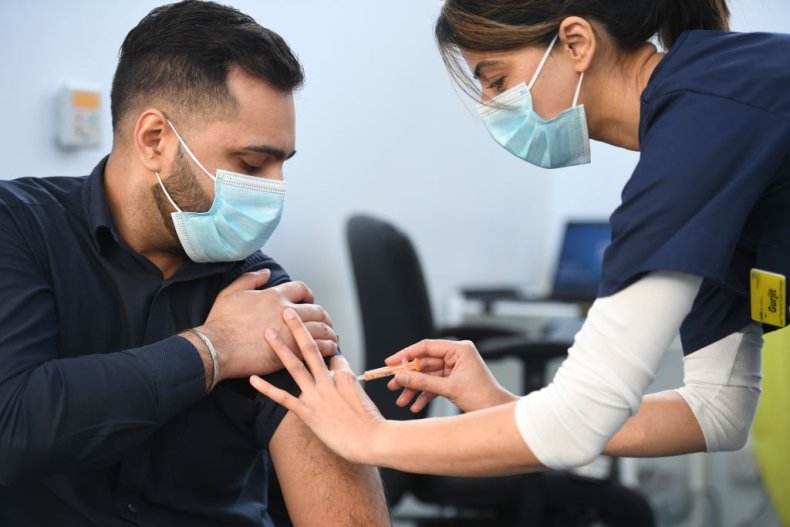 One patient in south London followed a link to an online booking system that was sent by his GP practice via NHS Digital approved supplier accuRx. He was able to book a vaccine, with two text messages from his GP practice confirming and reminding him of the appointment.
He later canceled it after a separate text message from the NHS said: "If you have received an invitation for a COVID-19 vaccination and you are NOT a health or social care worker please DO NOT BOOK an appointment." A spokesman for accuRx explained that bookings are made through its system by people identified by their healthcare providers. The NHS South West London Clinical Commissioning Group, responsible for organizing the vaccine rollout in the area, did not respond to a request for comment prior to publication.
A similar issue was reported by patients booking shots at some of the U.K.'s mass vaccination "hubs" due to an apparent loophole in the healthcare appointment program Swiftqueue, used by a handful of NHS trusts in England, as reported by the Evening Standard. It found that links sent out to book jabs by Swiftqueue could be shared with people who were not in priority groups in order for them to book vaccine appointments.
CEO Brendan Casey told the newspaper anyone who booked a vaccine "fraudulently" would be turned away by staff at the hubs if they do not have proof of eligibility. London Member of Parliament (MP) Stella Creasy described the situation as "extremely worrying".
So far, more than 6.5 million people have received the first dose of a COVID vaccine across the U.K. as the government aims to vaccinate 15 million people by mid-February.
A row over vaccine supply issues has erupted across Europe after the European Union had its supply of the Oxford/AstraZeneca vaccine cut amid increasing criticism over its slow rollout of injections.
It sparked fears the EU may tighten controls on exports of other COVID vaccines, including the Pfizer one, which is made in Belgium. The U.K. government has admitted vaccine supplies are "tight", but vaccine minister Nadhim Zahawi told the BBC manufacturers were "confident" they would deliver U.K. doses.