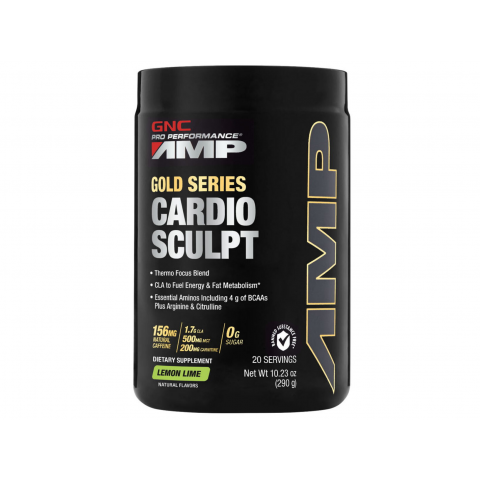 Complementing your workouts and fitness journey with the right kind of pre workout supplements or whey protein will help you with massive gains. Each one's body is different and so are their fitness goals. That's the reason it is recommended that you choose a supplement that aligns with your ultimate fitness goals.
There are so many kinds of whey protein supplements available that sometimes it gets daunting to narrow down on one option. GNC whey protein supplements are known for their amazing quality and are completely value for money.
The main advantages of including a whey protein or pre workout supplement by GNC in your fitness routine are – boosts stamina and performance, helps you push through intense workouts, keeps energy levels up throughout the day, builds immunity and metabolism, helps with post workout recovery, and reduces fatigue and muscle soreness. GNC AMP Gold is a popular range by the brand that has various products like whey protein and pre workout supplements.
Check out these 4 bestselling GNC AMP Gold supplements if you want to improve your athletic performance.
GNC Amp Gold Series 100% Whey Protein Advanced
GNC Amp Gold Series 100% whey protein advanced is one of the top selling whey protein formulas by GNC. It is a scientific formulation with the perfect balance of whey protein isolate and whey protein hydrolyzed. Each serving provides 24 g high quality protein to lean muscle mass, 5.5 g BCAAs and 11 g of total essential amino acids to help prevent muscle breakdown, 4 g glutamine and glutamine precursors to speed up muscle recovery process, and 100 mg digestive enzymes for better and quick digestion.
It is available in 3 delicious variants – double rich chocolate, vanilla, and delicious strawberry. It mixes instantly and tastes great. Just mix 1 scoop of this whey protein in 180 – 240 ml chilled water or milk and shake well. You can have it early morning, in-between meals, or post workout. Go the extra mile and get the best out of your workouts with this scientifically advanced whey protein formula. It is one of the trainer's trusted choice.
GNC Amp Gold Series BCAA Advanced with Vitamin B6
A lot of people don't know how important it is to include a BCAA pre workout supplement in your routine if you are into intense training. One of the best pre workout formulas is GNC Amp Gold Series BCAA Advanced with Vitamin B6. Get the maximum out of your workouts and accomplish your fitness goals with the right kind of GNC pre workout supplements.
It has a combination of 3 essential amino acids – leucine, isoleucine, and valine; and 3 important nutrients – L-citrulline, vitamin B6, and L-glutamine. It is a versatile drink that you can have pre and post workout. GNC Amp Gold Series BCAA is caffeine, creatine, and banned substances free. The main benefits are – fuels lean muscle recovery, boosts immunity, helps sustain muscle strength, and reduces post workout fatigue and tiredness. It is available in 3 flavors – kiwi strawberry, orange, and green apple. It can be easily taken along with GNC Amp Gold Series 100% Whey Protein Advanced.
GNC Pro Performance Amp Gold Series Ultra Rush
Next on the list of best GNC Amp Gold supplements we talk about GNC Pro Performance Amp Gold Series Ultra Rush. It is an ultra concentrated pre workout supplement that is enriched with Power and Performance Matrix to promote muscle strength and endurance. Each serving provides 300 mg of caffeine, 3 g of creatine, and 1.5 g of beta-alanine for best results. N.O pump accelerator pushes you through intense workouts as well. The main benefits of this pre workout supplement are – boosts energy, improves mental focus and concentration so you are able to achieve optimal physical performance, reduces post workout muscle soreness and fatigue, and improves strength and endurance.
It comes in 3 flavor variants – watermelon, blueberry, and fruit punch.. GNC Pro Performance AMP gold Series Ultra Rush is Informed Choice Certified. All GNC supplements with this certification are free from any harmful and banned substances. Just mix one scoop in 300 ml water and have it 30 minutes before workout. You can also have it on non-training days. Remember not to consume this pre workout supplement near bedtime.
GNC Amp Gold Series Test Extreme
GNC Amp Gold Series Test Extreme capsules are ideal for adult men who want to improve their overall wellbeing, stamina, and testosterone levels. It is enriched with powerful ingredients like fenugreek, Tribulus, Tongkat Ali, DIM and Indole-3-Carbinol to promote healthy testosterone levels in the body. Increased testosterone levels help to build muscles and optimize training performance and increase endurance. It is also helpful in relieving general symptoms of tiredness and fatigue, and undesirable mood change.
As a dietary supplement, take two capsules daily with food. On regular consumption you'll see that GNC Amp Gold Series Test Extreme will prime your body to fuel peak performance and improve sexual health and wellbeing as well.
You can buy all these GNC supplements directly from www.guardian.in. Also browse through other top selling categories like GNC whey protein and pre workout supplements. GNC is a brand that promises best quality at most affordable rates. The brand has been a world leader in health and fitness supplements for over 85 years and the expertise is unmatched.
Can you consume all these 4 products together, well yes they all 4 work together to overall improve your workout regime. But, nothing can replace taking a consultation from a qualified sports nutritionist.