This easy vegan parmesan cheese made with pistachios, nutritional yeast, and garlic is super simple to whip up and a delicious addition to a variety of dishes like pasta, soup, popcorn, and more. 
Will and I have been obsessed with this easy vegan parmesan for months. We love it so much, it has become a pantry staple. I've seen a few different variations of vegan parmesan cheese online and wanted to create one of my own. Most recipes call for cashews, but I think it tastes so much better with pistachios!
This recipe can be a great alternative for both vegan and vegetarians alike! Traditional dairy parmesan cheese is also not vegetarian-friendly because it contains animal rennet (enzymes from the lining of an animal's stomach). Vegetarian parmesan made with vegetable rennet or microbial does exist but can be hard to find. (Whole Foods or Trader Joe's sometimes carry a vegetarian parmesan.)
Does this taste just like traditional parmesan? No, but it does taste delicious! In fact, my cheese-loving husband is a huge fan of this alternative parmesan too.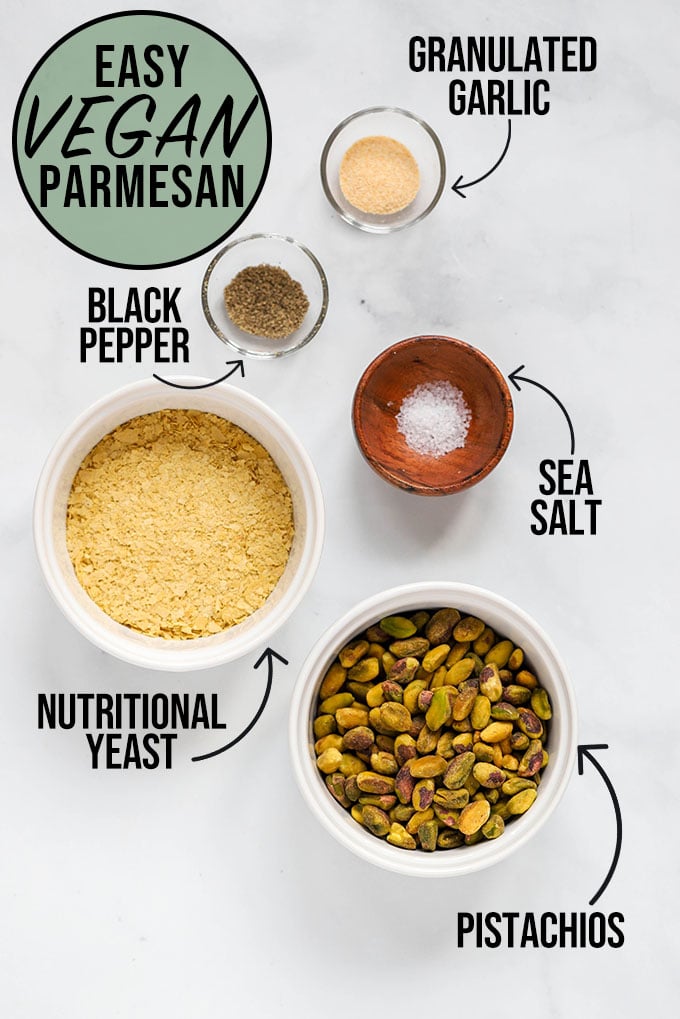 Easy Vegan Parmesan Ingredients
Pistachios: I love the subtle earthy/nutty flavor that pistachios add to this parmesan. Their flavor pairs well with the cheesy flavor of the nutritional yeast. We buy ours from the bulk bin for this parmesan so we can pick up only what we need rather than having to invest in a big bag of pistachios.
Nutritional Yeast: This is the key ingredient for adding that "cheesy" flavor to this recipe. See below for more information!
Granulated Garlic and Onion: Garlic adds some "umami" flavor to this vegan parmesan cheese so that it tastes a little more like dairy parmesan.
Sea Salt: Parmesan cheese is normally pretty salty, so you'll want to add some sea salt to your vegan parmesan.
Ground Black Pepper: The black pepper is optional, but I like having bit in my vegan parmesan.
How to Make Vegan Parmesan
Add all of your ingredients to a food processor and pulse until it resembles bread crumbs. Note, it only takes a few pulses to get the right texture. If you run the food process for too long, you may end up making pistachio nut butter!
Recipe Tips
Make sure to buy unsalted pistachios for this recipe or else it could be too salty!
It's best to use a food processor for this recipe because a blender can make your parmesan too fine or even worse, turn it into parmesan nut butter!
You really only need to pulse your food processor a few times to break down the pistachios into breadcrumb size pieces.
Buy a nutritional yeast that is fortified with vitamin B12 to sneak some more of this important nutrient into your diet.
What is Nutritional Yeast?
Nutritional yeast (ie. "nooch") is a food beloved by vegans and vegetarians for its unique cheese-like flavor. This fun ingredient is an inactivated version of a species of yeast called Saccharomyces cerevisiae that is the same type of yeast used for bread and beer. However, since it is inactivated it won't react in the same way as the yeast you use for bread.
Not only does nutritional yeast provide flavor to vegan recipes, but it is packed with nutrition too. (Hence the first part of its name!) Nutritional yeast provides 3 grams of protein per 2 teaspoons and is a great source of B vitamins. Some nutritional yeast is also fortified with vitamin B12, an essential nutrient that should be on your radar as a vegan or vegetarian. (I recommend supplementing with B12, but getting it through food is an added bonus!)
Can I make this recipe with other nuts?
Yes, you can make this recipe with a variety of other nuts such as raw cashews, sunflower seeds, pine nuts, or walnuts. You could also use hemp hearts if you want to make a nut-free version. I've tried a few different ones and continue to land on this pistachio version.
Pistachios have a mild earthy flavor that helps mimic some of the flavor of a traditional dairy parmesan. Cashews are another popular option for homemade vegan parmesan but I thought they were a little too bland.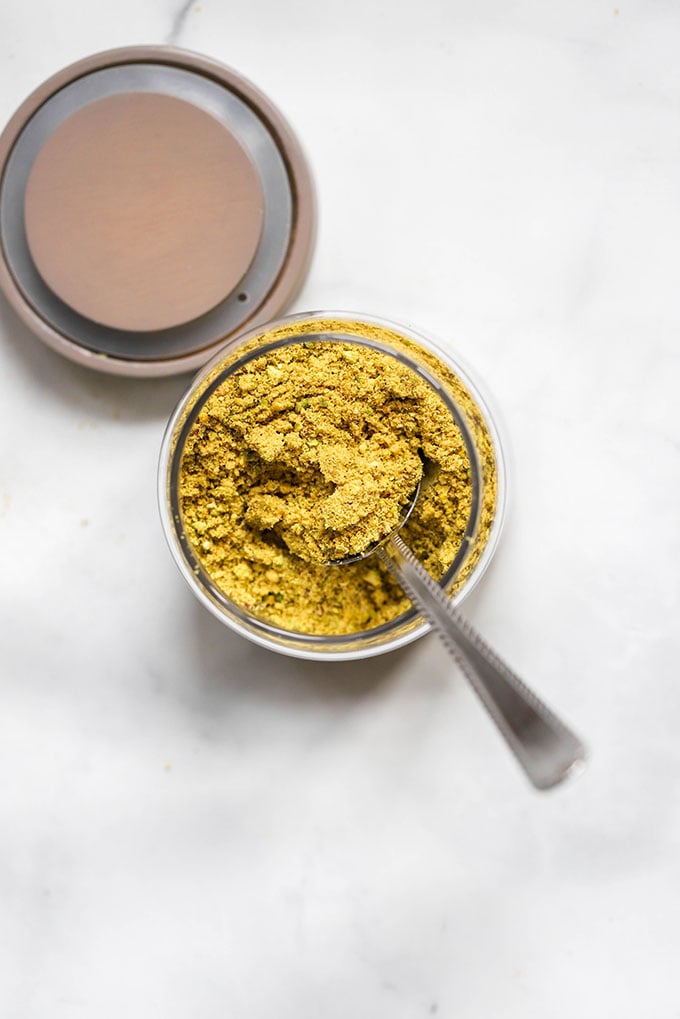 How to Store
We usually store this in an airtight jar in the pantry where is can be stored for up to 2-3 weeks. If you plan to store it longer, I would keep it in the fridge as the fat in the pistachios can go rancid when stored for a long time at room temperature.
This parmesan also freezes well if you want to make a large batch and freeze it for later use. Just store in an airtight container or jar in the freezer.
What to Serve with this Vegan Parmesan Cheese
We add this easy vegan parmesan to all kinds of dishes from pasta to soup to popcorn. Here are a few recipes that pair well with this parmesan!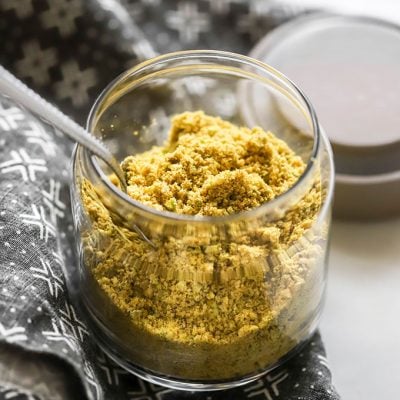 Easy Vegan Parmesan
Created by: Deborah Murphy
This easy vegan parmesan made with pistachios, nutritional yeast, and garlic is super simple to whip up and a delicious addition to a variety of dishes like pasta, soup, popcorn, and more. 
Prevent your screen from going dark
Notes
Makes about 1 cup of parmesan. Serving size is about 1 tablespoon. 
Store in a jar in the pantry for up to 3 weeks. Store in the fridge if keeping for longer than 3 weeks. This recipe can also freezes well if you want to make a large batch and store for later.
Don't have pistachios? Use an equal amount of raw cashews, sunflower seeds, or hemp hearts.
Find nutritional yeast in the baking aisle or bulk bins at your local grocery store. 
Nutrition
Serving: 1tablespoon | Calories: 35kcal | Carbohydrates: 1.5g | Protein: 1.5g | Fat: 2.5g | Polyunsaturated Fat: 2.5g | Sodium: 35mg | Fiber: 0.5g
Reader Interactions